AI Seminar: Machine Learning meets Particle Physics
Speaker
Troels Petersen, Associate Professor at Niels Bohr Institute, University of Copenhagen.
Abstract
Particle physics is renown for its complexity and enormous amounts of data - CERN's LHC experiments has so far produced 250+ PB, after throwing away a factor 100000 to get it down in size! The reconstruction and identification of physics objects are well suited for Machine Learning approaches, and I will present our attempt at recognising electrons and photons in the proton collisions, and the estimation of their energy, both of which can significantly improve both the ATLAS Higgs-particle physics program, but also a whole row of other analysis.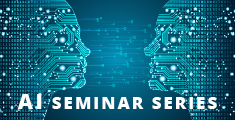 This seminar is a part of the AI Seminar Series organised by SCIENCE AI Centre. The series highlights advances and challenges in research within Machine Learning, Data Science, and AI. Like the AI Centre itself, the seminar series has a broad scope, covering both new methodological contributions, ground-breaking applications, and impacts on society.