Manuela Veloso: The robot is your friend
Manuela Veloso, one of the leading researchers in the field of AI, will visit University of Copenhagen to give a talk in the free lecture series #DetViVed by Politiken, Carlsberg Foundation and University of Copenhagen.
(Info in Danish - the talk will be conducted in English)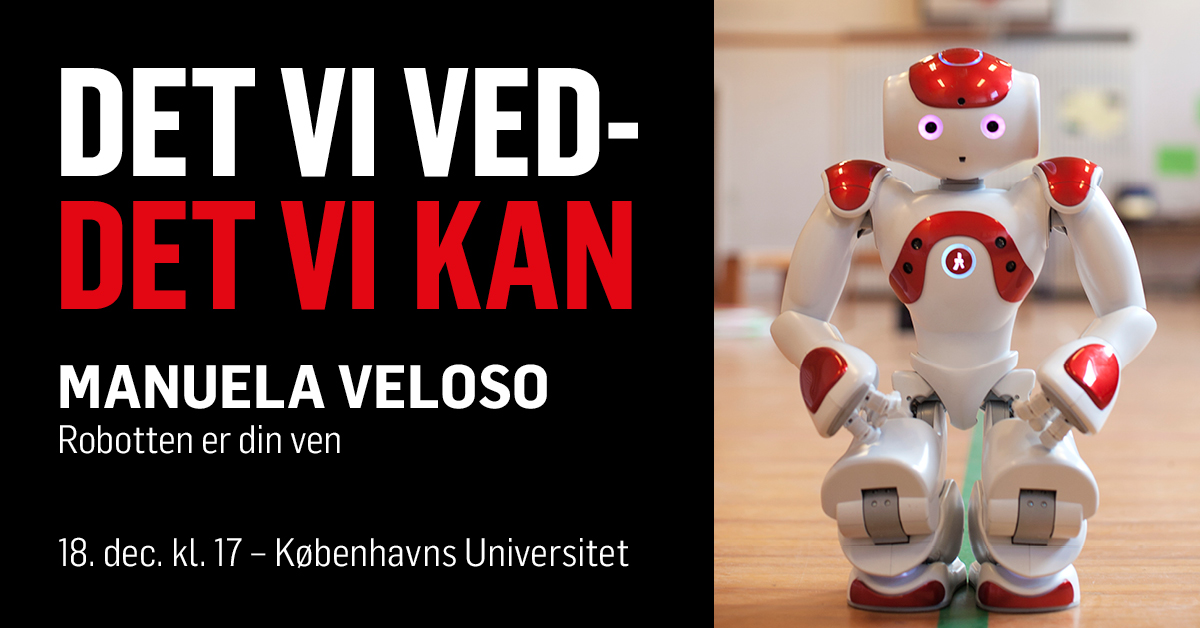 Robotterne og den kunstige intelligens er blevet malet på væggen som kommende grunde til massearbejdsløshed, men vi behøver slet ikke være bange fortæller Manuela Veloso som er førende forsker på området. Det vil hun tale om til næste omgang af den gratis forelæsningsrække #DetViVed
Kunstig intelligens vil revolutionere vores liv. Men glem skrækscenarierne om massearbejdsløshed og udsigten til evig krig mellem robotter og mennesker. For nej, vi mennesker vil ikke miste vores jobs, hvis bare vi uddanner os. Og vi kommer ikke til at stå i et fjendtligt modsætningsforhold til den kunstige intelligens. Tværtimod.
Mennesket og kunstig intelligens vil i fremtiden blive stadig mere uadskillelige og bundet sammen i en evig udveksling af information og viden. Sådan lyder opmuntringen fra den amerikanske professor i kunstig intelligens Manuela Veloso, som er tilknyttet J.P. Morgan AI Research.
Efter forelæsningen vil Politikens Michael Jarlner interviewe hende og moderere spørgsmål fra publikum. Forelæsningen er en del af samtalerækken 'Det vi ved, det vi kan', som er udviklet i et samarbejde mellem Politiken, Københavns Universitet og Carlsbergfondet med støtte fra Carlsberg Mindelegat.
Sign up here - it's free to participate but registration is required
Students sign up here - 100 seats are reserved for students
Manuela Veloso will be hosted by Christian Igel, Professor at Department of Computer Science, University of Copenhagen, during her visit.